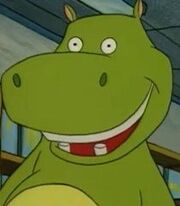 Humphrey the Hippo is a children's television character. He is a green hippo and is disliked by film critic Jay Sherman. Humphrey is star of the Humphrey the Hippo Show. The show is filmed right across from Coming Attractions. Many of his fans are young preschoolers.
Episodes Edit
Appearance Edit
Humphrey is a green hippo who resembles Barney. Humphrey sings sugary children songs like "Ho, Ho, Ho, Strick Out Your Toe;Hee, Hee, Hee, Stick Out Your Knee. Humphrey is actually played by a woman who Jay becomes attracted to even after finding out that she is Humphrey.
The show was bought out by a cigarette company that started advising kids to start smoking reassuring them when they get a lung removed they will get free ice cream.
Madonna was once a guest on the show.
Ad blocker interference detected!
Wikia is a free-to-use site that makes money from advertising. We have a modified experience for viewers using ad blockers

Wikia is not accessible if you've made further modifications. Remove the custom ad blocker rule(s) and the page will load as expected.