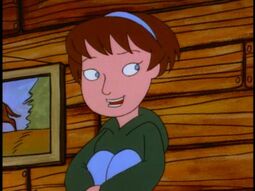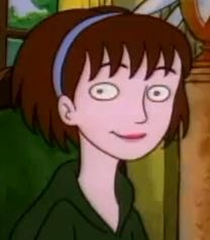 Margo Sherman is Jay's adopted little sister and the only biological daughter of Franklin and Eleanor Sherman. She is a 16 year old junior at Miss Hathaway's School for Untouched Girls. Margo is an activist who often protest her mother's socialite lifestyle.
Margo cares for Jay and makes sure that many of his girlfriends are not just dating him to get a good review on their movies. Jay also escorts Margo to the debutante ball in which thier mother forces her to go.
In Season 2 she briefly dates grunge rock singer Johnny Wrath after he moved next door to the Sherman's. She even considered losing her virginity to him, but discovers he was cheating on him.
Appearance
Edit
Margo is seen wearing a green hoodie with a purple headband with brown hair.
In season 1 she wore pink lip-gloss while in season 2 she doesn't.
She is voiced by Nancy Cartwright, who is famous for being the voice of Bart from The Simpsons and Chuckie Finster from Rugrats (along with the spin off,All Grown Up) starting in 2002.
It is revealed that she gave a handjob, when telling the dressmaker she was still a virgin.
Ad blocker interference detected!
Wikia is a free-to-use site that makes money from advertising. We have a modified experience for viewers using ad blockers

Wikia is not accessible if you've made further modifications. Remove the custom ad blocker rule(s) and the page will load as expected.