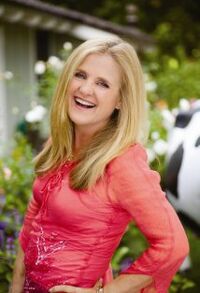 Nancy Cartwright is a voice actor who voiced Margo Sherman.
Nancy Jean Cartwright is an American voice actress, film and television actress, and comedienne. She is known for her long-running role as Bart Simpson on the animated television series The Simpsons. Cartwright also voices other characters for the show, including Nelson Muntz, Ralph Wiggum, Todd Flanders, Kearney, and Database. Her first professional role was voicing Gloria in the animated series Richie Rich. Cartwright has voiced numerous animated characters, including Chuckie Finster in Rugrats and All Grown Up!, Rufus in Kim Possible, Mindy in Animaniacs, and Chip in The Kellys. She published a autobiography, My Life as a 10-Year-Old-Boy, and four years later adapted in into a one-woman play.
External links
Edit
Ad blocker interference detected!
Wikia is a free-to-use site that makes money from advertising. We have a modified experience for viewers using ad blockers

Wikia is not accessible if you've made further modifications. Remove the custom ad blocker rule(s) and the page will load as expected.