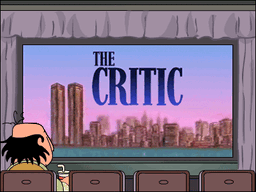 Welcome to The Critic Wiki!
The Critic Wiki is a collaborative wiki about the short-lived animated series The Critic that anyone can edit!
The Critic is about balding movie critic Jay Sherman who hosts Coming Attractions. Most of the movies he watches he hates and has a signature line "It Stinks". The show also features his nutty-adopted father, his well-meaning son Marty, Australian movie star Jeremy Hawke, Margo biological child of his adopted parents, Doris his makeup lady and Duke Phillips his boss. In Season two his girlfriend Alice is added.
7/13/10: Wiki starts.
7/5/10: The Critic was confirmed to air on TBS soon.
12/11: Ranked 6th on Most Underrated Animated T.V. Shows of All Time.
Latest activity
Edit